In 4 DIY Tips to Achieve Improved WordPress Performance, we explained the importance of WordPress site speed to the user experience. Then we provided some DIY suggestions that site owners can take to begin doing some basic site optimizations.
In this article, we look at why WordPress speed optimization services may be a greater option and some things you should consider when choosing a team to perform these services.
Table of Contents
Why Use a DFY WordPress Speed Optimization Service
DIY recommendations are great first steps to begin optimizing your site's speed and performance. But if you want to fully execute (and maintain) comprehensive WordPress speed optimization, it may be more beneficial to engage a team of experts to deliver a complete Done-For-You (DFY) WordPress speed optimization service.
Gain Immediate Expertise
While you may feel comfortable using WordPress, there are nuances of the platform that only someone who lives and breathes in this space will understand. After all, building a great page can be very different than understanding how to optimize code, implement edge caching, or integrate CloudFlare CDN techniques. That's okay. When it comes to making your site the greatest it can be, tap into the expertise of teams that can give you every advantage possible.
Prioritize Time On Growing Your Business
Website owners have too many responsibilities, as it is. If you can delegate optimization services to a team that can perform those workloads for you, take advantage. Let a team of WordPress optimization service experts be responsible for identifying, resolving, and maintaining healthy site speeds. This way you can use your valuable time building content, developing new technologies, or working on other projects focused on growing your business.
Keep Pace with Technology
In addition to the benefits of expertise, using a team of WordPress optimization service experts may also help your business stay up-to-date on the latest WordPress technologies. As just one example, an article from Demand Sage, states that there are now over free 60,000 plugins available in WordPress. A team of WordPress experts is more likely to know which plugins and/or other new technologies site owners should consider for site optimization efforts.
The bottom line is that utilizing a team of WordPress optimization service experts can accelerate your performance efforts, and give you freedom to focus on other priorities.
How to Choose a WordPress Speed Optimization Service Team
Choosing the right providers can make or break the ultimate success of your optimization efforts. Therefore, when evaluating providers, it is recommended that you consider the following:
Experience and Expertise
Does the provider understand the nuances of WordPress and have a proven track record of delivering success for its clients? It is important to ensure that a WordPress optimization service team has a history of proven accomplishments and growth.
Customization
If you engage a WordPress optimization service team that uses the same optimization approach to all sites, it may improve some areas of your site speed. But it is unlikely to truly resolve problematic areas unique to your site only. A team that looks at your site individually and delivers custom, site-specific fixes will always deliver greater performance improvements.
Personalization
The relationship your WordPress optimization service team has with its clients should also be evaluated. Even though an outside team is handling these projects so that you do not have to, having personalized interactions will help to ensure your goals and interests are being met. One way to do this is to speak with and /or read customer reviews to validate that their customers are happy with their personal experiences and would recommend the team to others.
Conclusion
Selecting the right WordPress Speed Optimization Service is a crucial step in ensuring your website performs at its best. If you plan to delegate these efforts to a WordPress optimization service team, you ultimately need to feel comfortable that the team you choose has the necessary expertise. But more importantly, you will want a team that takes the time to understand the unique challenges of your site and works closely with you to make your site the best it can be.
BigScoots WordPress Speed Optimization Service
If you want to maintain comprehensive WordPress speed optimization on an ongoing basis, BigScoots offers Performance and Security Packages. The BigScoots Performance and Security Packages are WordPress speed optimization services developed specifically to boost Google Core Web Vitals, improve Page Speed, and layer on additional security features to protect BigScoots Managed WordPress.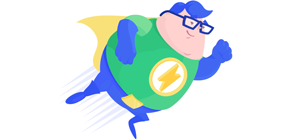 To learn more about the feature-rich Performance and Security Packages along with real-world examples of improvements that BigScoots clients have experienced, visit the BigScoots WordPress Speed Optimization page.
If you need need more direct hands-on services, BigScoots WordPress Experts can be engaged to perform more page-specific maintenance, customization, or development service through Assisted Performance Plans.
Get in touch with our team to explore the potential WordPress performance improvements your Managed WordPress site can gain!