Personal. Expert. Always There. That's Real Managed Hosting.
Completely managed web hosting that works for you, because experts built it just for you. 17,000+ Clients

Trusted for 13 years by thousands of growing businesses
Billions of page views a month

Serving many billions of optimized page views every single month
24/7/365 ~90
second support

Our experts are always available, here to deliver meaningful personalized management
45 Day money back guarantee

No questions asked, money back if we don't deliver
Site specific management and monitoring

Digging deep to solve issues and proactively monitor your site 24 hours a day
Free unlimited migrations

Migrations are always seamless, with zero downtime and handled entirely by us
WOW! Talk about epic customer service, fantastic site speed, and going the extra mile. Love the crew at BigScoots!

After trying several other hosts, BigScoots was highly recommended as a top-notch hosting company I could trust. This is the best decision I've made for my food blog! Excellent service – super follow-up; I couldn't be happier. Thanks to the entire team for your over-the-top customer service and for never making me feel like I've got dumb questions.

Really great customer support experiences. Friendly, fast, responsive, and great product – will be staying with them for a while!

I'm on @BigScoots best support of ANY host I've been on. Was with them for years and stupidly left for Siteground and ended up coming back to Bigscoots. I'm not connected with Bigscoots in any way, but they are seriously good. Any issue they're on it.

I'm a big fan of Bigscoots. Their support team is quick to respond and has rescued us several times.

BigScoots is the best hosting company for bloggers. Can't get better than their fast, detailed service. I use BigScoots for all of my sites.

Me: Breaks website, has no idea how to fix it, frantically e-mails @BigScoots for help. Bigscoots: *replies within 2 minutes* We're looking into this now. BS: *fixes within 20 minutes* We've fixed this for you, please check if it all works on your end. My heroes.
We Are Human-to-Human
We get to know our clients personally and work hard because we genuinely want them to thrive. We're a small, incredibly efficient and agile expert team who are all seriously dedicated to the success of our clients.
Experts Every Time
We are a team of experts. We are always available 24/7/365 in ~90 seconds with a site-specific level of detail that leads the industry in what it means to be fully managed.
We're different, and it starts with our seamless, no downtime migrations
What sets our migrations apart is the amount of human time and attention we dedicate to each. Our migrations are always seamless, with zero downtime, and handled entirely for you by our expert team!
Sign up, submit your migration request, and relax as our experts take care of everything else.
Today's average migration time: ~45 minutes
Why Did You
Switch to BigScoots?
13 Years of Five-Star Reviews
Our Strengths
The Human-to-Human Difference
We aren't Business-to-Business or Business-to-Consumer, we are Human-to-Human and proud of it. We get to know our clients personally and work hard because we genuinely want them to thrive. We're a small, efficient and agile expert team who is exceptionally dedicated to our clients' success and it shows in 13 years of nothing but positive reviews.
Real Managed Web Hosting
Managed hosting at BigScoots means you are getting a personable response within ~90 seconds from a real expert you know by name, who already knows your system inside and out, who you trust to work tirelessly to proactively monitor, optimize and improve performance and security without needing to be asked. We consider ourselves your partner, are personally invested in your success and deliver a hosting environment designed just for you.
Fully Managed
WordPress Optimized Hosting
Proactively monitored, site specifically managed and secured. The fastest Managed WordPress Hosting plans on the web today, period.
Save 10% by Paying Annually!
Yearly Pricing
Monthly Pricing
Unlimited Free Migrations
Handled entirely by our team and guaranteed seamless
45 Day Money Back Guarantee

No Overages, Throttling or Unnecessary Upgrades

Daily Backups

Simple Upgrades, Downgrades and Prorated Refunds

Proactive Monitoring

No Contracts
Looking for Shared, Cloud VPS or Dedicated Hosting
What Makes Us Better
45 Day Guarantee
Give us 45 days to show you why every single one of our clients say we're the best host they've ever had or your money back!
Personal 24/7/365 Management
The industries most positively reviewed support and management team. Here around-the-clock to make your life easy.
99.99% Uptime
We don't just guarantee, we deliver year after year a minimum uptime of 99.99% across all of our services.
A Team You Can Trust
Starting over 13 years ago with the simple idea that hosting should be done better, Scott and Justin has led the BigScoots team to successfully deliver business changing results to 17,000+ clients of all sizes globally. Our team believes that the best managed web hosting comes with a personal touch, and that's why we take the time to understand our clients' unique needs and goals.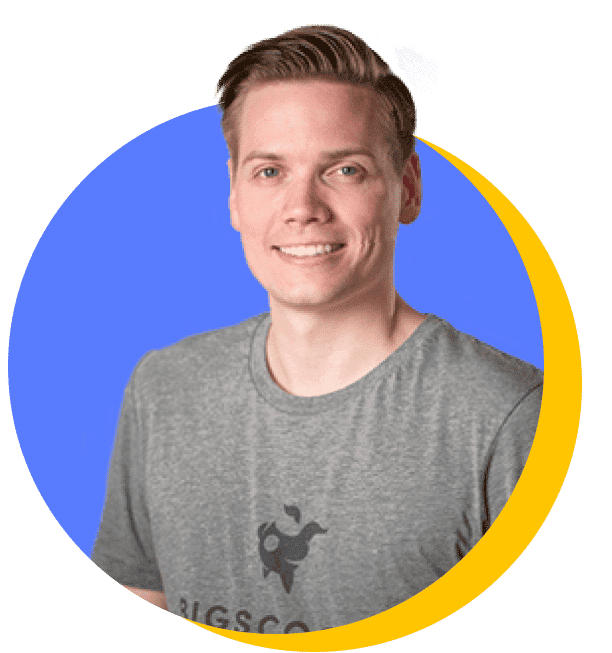 This is Scott our
Co-Founder and CEO
This is Justin our
Co-Founder and Lead Systems Engineer