Personal. Expert. Always There. That's Real Managed Hosting.
Completely managed web hosting that works for you, because experts built it just for you. 17,000+ Clients

Trusted for 13 years by thousands of growing businesses
Billions of page views a month

Serving many billions of optimized page views every single month
24/7/365 ~90
second support

Our experts are always available, here to deliver meaningful personalized management
45 Day money back guarantee

No questions asked, money back if we don't deliver
Site specific management and monitoring

Digging deep to solve issues and proactively monitor your site 24 hours a day
Free unlimited migrations

Migrations are always seamless, with zero downtime and handled entirely by us
I have been very impressed with BigScoots. I ended up getting both of my sites migrated to BigScoots in just a couple of hours. The service was fantastic, and everything was done quickly and efficiently. I've been with another host for years, and their service has never been so personable or efficient. I've also had my sites hacked multiple times over the years, and when that happens it is like pulling teeth to try and get someone to help, even with the security monitoring add-ons and additional services I was paying for. It would always be multiple days before things were fixed, and the site would lose revenue, none of which they ever cared about. This is not the case with BigScoots. They are a full service hosting company and watch over the sites, which gives me peace of mind. They also don't have up charges for SSL certificates and many add-ons. They are just included, which is very nice. I honestly feel like I'm going to be in real good hands with BigScoots, and am excited to be with a new host. Thank you!

Katie, Scott, JK, Justin and the rest of the BigScoots team are amazing!! Their team is talented, detail oriented and incredibly helpful. We've used many hosting companies before, and we can confidently say that BigScoots is now our #1 go-to. Our last major project required a host that was scalable, dependable and easy to reach via chat at a moment's notice. After hours of research and several conversations with each host, we decided to choose BigScoots and the experience has been fantastic. We've already started our next build with them and couldn't be happier. Thanks so much!!

I've had dozens of hosts, BigScoots is clearly the best value, reliable managed host out there. I've been with BigScoots for many years. They're an excellent alternative to companies like WP Engine and way better than companies like HostGator. I've had major sites that had sister sites that weren't hosted by BigScoots. Our sites would be up and stable while the sister sites would go down in a fire. BigScoots is my favorite host of all time and I highly recommend them to everyone.

I've had my websites with BigScoots for a few years, and have been extremely pleased! Their customer service is excellent and FAST. I'm always happy to refer friends and clients to BigScoots.

10 out of 10. Switched over from Hostgator and I cannot express what a contrast it's been. A website that actually loads! And fast too. BigScoots customer service is brilliant.

Remarkable service. I am always amazed just how fast things get sorted. I rate these guys as 100/100 as there is genuinely nothing I could see them doing to improve the service that I receive. They will do anything for me and never patronize my lack of tech skills. My websites are astonishingly fast too. BigScoots, thank you. You have me for life.

Shout out to @BigScoots for giving me a no questions asked refund when I double paid a bill. You all are the greatest and have wonderful customer service

I am not one to usually make a comment or recommendation for any company. But sometimes things happen that warrant a comment. I have only been with BigScoots for a little over a month now but can't thank them enough for all the hard work they have done on my account. Justin and I have been communicating back and forth for weeks now trying to get a particularly nasty email problem that I was having fixed. I won't go into all the details but suffice it to say that he and Scott worked with me when they should have just told me to pound sand and move on. I was a pain but these guys held their cool and found out what the problem was and got done. Scott and Justin, you guys are the best and I will tell everyone I know about your service.
We Are Human-to-Human
We get to know our clients personally and work hard because we genuinely want them to thrive. We're a small, incredibly efficient and agile expert team who are all seriously dedicated to the success of our clients.
Experts Every Time
We are a team of experts. We are always available 24/7/365 in ~90 seconds with a site-specific level of detail that leads the industry in what it means to be fully managed.
We're different, and it starts with our seamless, no downtime migrations
What sets our migrations apart is the amount of human time and attention we dedicate to each. Our migrations are always seamless, with zero downtime, and handled entirely for you by our expert team!
Sign up, submit your migration request, and relax as our experts take care of everything else.
Today's average migration time: ~45 minutes
Why Did You
Switch to BigScoots?
13 Years of Five-Star Reviews
Our Strengths
The Human-to-Human Difference
We aren't Business-to-Business or Business-to-Consumer, we are Human-to-Human and proud of it. We get to know our clients personally and work hard because we genuinely want them to thrive. We're a small, efficient and agile expert team who is exceptionally dedicated to our clients' success and it shows in 13 years of nothing but positive reviews.
Real Managed Web Hosting
Managed hosting at BigScoots means you are getting a personable response within ~90 seconds from a real expert you know by name, who already knows your system inside and out, who you trust to work tirelessly to proactively monitor, optimize and improve performance and security without needing to be asked. We consider ourselves your partner, are personally invested in your success and deliver a hosting environment designed just for you.
Fully Managed
WordPress Optimized Hosting
Proactively monitored, site specifically managed and secured. The fastest Managed WordPress Hosting plans on the web today, period.
Save 10% by Paying Annually!
Yearly Pricing
Monthly Pricing
Unlimited Free Migrations
Handled entirely by our team and guaranteed seamless
45 Day Money Back Guarantee

No Overages, Throttling or Unnecessary Upgrades

Daily Backups

Simple Upgrades, Downgrades and Prorated Refunds

Proactive Monitoring

No Contracts
Looking for Shared, Cloud VPS or Dedicated Hosting
What Makes Us Better
45 Day Guarantee
Give us 45 days to show you why every single one of our clients say we're the best host they've ever had or your money back!
Personal 24/7/365 Management
The industries most positively reviewed support and management team. Here around-the-clock to make your life easy.
99.99% Uptime
We don't just guarantee, we deliver year after year a minimum uptime of 99.99% across all of our services.
A Team You Can Trust
Starting over 13 years ago with the simple idea that hosting should be done better, Scott and Justin has led the BigScoots team to successfully deliver business changing results to 17,000+ clients of all sizes globally. Our team believes that the best managed web hosting comes with a personal touch, and that's why we take the time to understand our clients' unique needs and goals.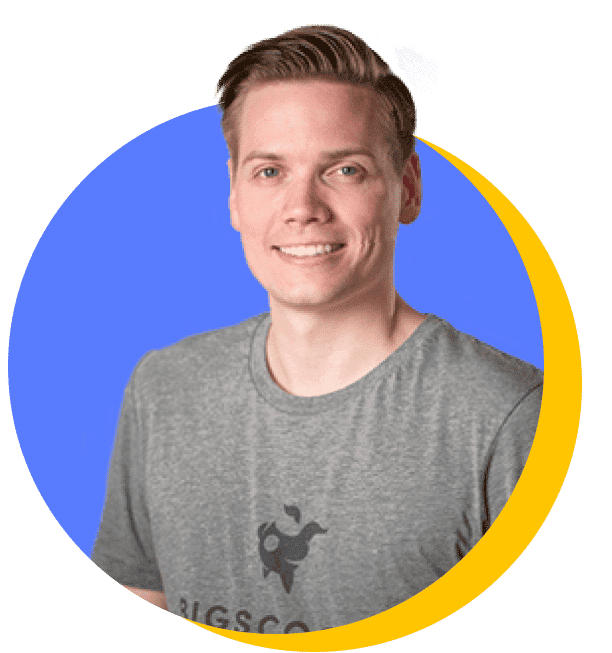 This is Scott our
Co-Founder and CEO
This is Justin our
Co-Founder and Lead Systems Engineer